Maps and Directions
DIRECTIONS TO ESTERILLOS OESTE FROM SAN JOSE INTERNATIONAL AIRPORT
We will be more than happy to assist you in any way. No matter how you travel, print out the following maps and directions.
From the airport you will be taking the road to Jaco Beach and Quepos. Initially you will be following the road to San Ramon. This is mainly a 4 lane road and watch for the exit to Jaco Beach, a sign to look for are large gasoline storage tanks on the left, when you see those get in the right lane and take the next exit. At the Stop Sign you will turn left onto the main road to Esterillos Oeste, from here follow the signs to Jaco Beach and Quepos.
From the initial Stop Sign you are about 60 miles from Esterillos Oeste, but it will take you about one hour and forty five minutes to get there because you will be going through some mountain ranges. They are in the process of building a new freeway to the beach and that will cut the driving time in half. That road is to be completed in about three years.
For more information on NEW HIGHWAY read here!
You will be going through the following small towns on your way to Esterillos Oeste. Atenas, San Mateo, you will by pass Orotina, and Jaco Beach. Always following the signs to Jaco Beach and Queopos.
The first village you will pass through is Atenas, which is about 10 miles from the first Stop Sign. After you go through Atenas you will go through the mountain ranges, it's a beautiful drive, but has many curves so you will need to drive slow. That drive is about 15 miles and then you will arrive in San Mateo.
As you enter San Mateo, you will follow the road to the right and then will go one block and take an immediate left. You will go by a nice park on your right and a Catholic church on your left. Interesting fact it that in Costa Rica whenever they built a Catholic Church, they always would build a nice park for the people right next to the Church.
You will proceed another ten miles and will enter the bypass to Orotina, just keep straight and continue to follow the signs to Jaco Beach and Queopos. Continuing on the highway, you will see signs for Jaco/Puntarenas/Quepos, take this exit to the right and follow this road straight to Jaco Beach.
Actually the main road bypasses Jaco Beach and you will see a number of exits for Jaco Beach on your right. Keep straight and Esterillos Oeste is about 15 minutes further. This road is called the Costanera Highway and it will eventually be the new Panamanian that will run along the coast from Panama to Nicaragua. It will be like the pacific coast highway in California.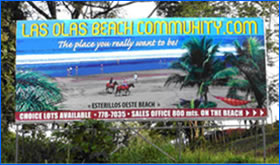 About 15 minutes after you by pass Jaco Beach you will see the following sign at the entrance to Esterillos Oeste. There is a medium size tropical sign on your right that says "Bienvenidos a (Welcome) to Esterillos Oeste". You will also see the Las Olas Beach Community billboard at the entrance as well. You can't miss it. (See pictures below.)