Our Model Homes
First phase
Will consist of 72 lots with a minimum size of 500 sq meters. These lots are being developed along the public road goind into Esterillos Oeste and will all be titled lots. All lots are within minutes of walking distance from the beach. Because Las Olas is a true Beach Side Community, there Lots won't last long. Infrastructure for these lots will include paved access roads, electric and water to the lots and a new paved main road with sidewalks going into the beach.
Esterillos beach is named after its numerous estuaries (Esterillos is Spanish for "little estuaries"). Because of its length, it is divided into two areas: Esterillos Este (east) and Esterillos Oeste (west). Both beaches are ideal for enjoying the ocean, though the waves are strong and constant making it an ideal surfing beach. There is something else that is very special about Esterillos Oeste, it's one of the few areas from Jaco Beach to Quepos that has gently rolling hills right next to the beach. Most of the other terrain between Jaco Beach and Quepos is flat and use to be used to grow rice. The hills in Esterillos Oeste provide dramatic views of the ocean and mountains.
Below are some Las Olas model homes. Choose your lot and then pick your dream home or design your own, we can then build it and also offer you a mortgage at preferable rates with 20% down. Las Olas is the place you want to be. Contact David Aven via our contact page for more information and take the first step to start living the dream.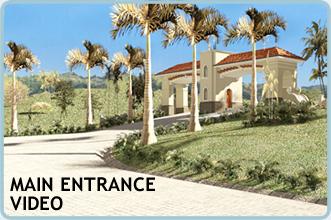 Casa Riviera (Junior Models)
---
Casa del Sol (Junior Models)
---
Casa Hermosa (Junior Models)
---
Casa Toledo (Junior Models)
---
Our Condos